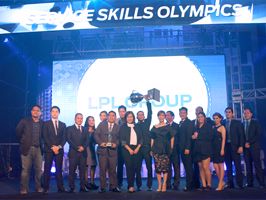 Overall Champion in Ford Service Skills Competition for 5 Consecutive Years
Every customer driving thru each 9 of the Laus Ford Group dealerships' Service Centers are secure in the know—their vehicles are in the competent hands of skilled champions. Bob Ablaza, Ford Pampanga Aftersales Customer Service Director states everything is for their customers "Our Laus Ford Group dealerships is where concerns requiring high technical skills and competencies are brought or referred to by Ford Group Philippines (FGP) "

So, how does this rare Five-Peat achievement by the 38-man Laus Ford Group team translates to better service experience felt by each Ford customer? "We not only became the envy of the competition, we also have made to the Ford network of customers as the dealer which best resolves hard to diagnose concerns. Ablaza beams with pride as he states.


There was a unique battlecry echoing before the Laus Ford Group contingent went for that rare quintuple crown. Remembers it vividly. "Go for 5-peat" was our battlecry when the competition was held. Since its inception, no team or dealergroup has been able to defend their crown unlike us who defended the crown and even became champions thrice in a row---a "grandslam" of sorts.

Winning has long been in the DNA of dealerships under the LausGroup. And the Ford dealership was gunning for an equally bemedalled inspiration within the group. "All of us are bounded by tradition and oozing with pride whenever we are called to compete, coach, support in whatever manner we can to enable us to win the crown."

Not only was pride at stake, Ablaza notes the odds were high because at stake was a bigger challenge to conquer again-Asean wide competition."We are all under pressure to defend not only the Ford (Philippines) Skills Olympics crown but to defend as well and to enable us to compete at the ASEAN (Technician) Skills Olympics level where we are also the defending champions. Ford Pampanga's Ablaza states what made this year's competition more challenging was the format. "FGP made sure that they further levelled the playing field in terms of actual individual skills and knowledge of each participant, and by the TEAM as a whole. We are proud to say that no matter whatever changes are introduced we remain the Champions."


For these Ford champions, it's just another day in the office. Another day of excellence at their respective service bays.
Dealer News