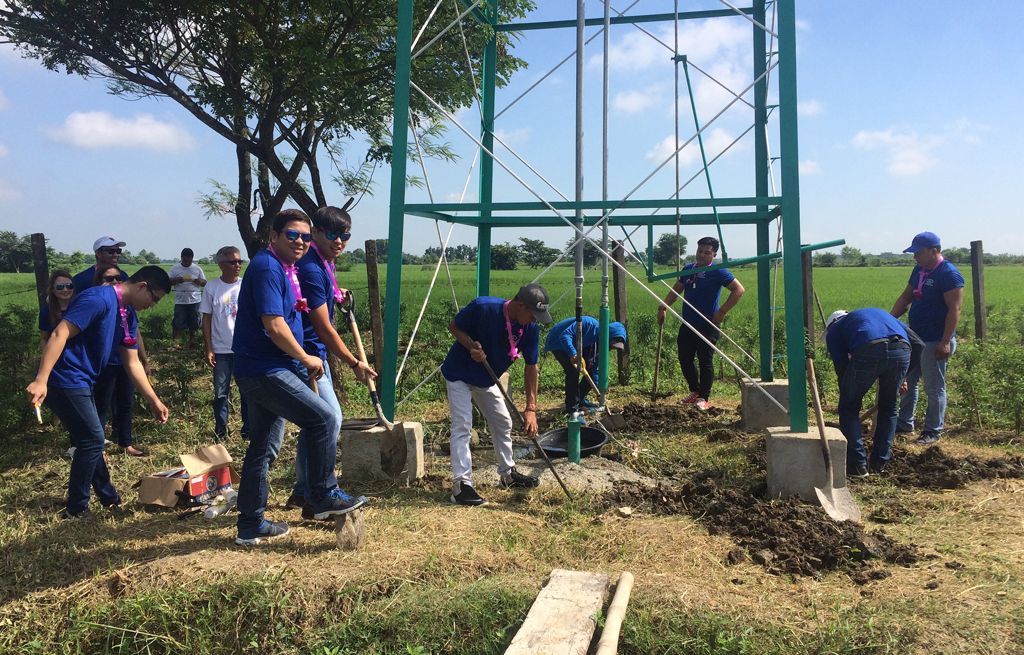 Ford Holds Global Caring Month in September
MANILA, Philippines, 25 August 2017 -- September is Ford Global Caring Month and thousands of Ford employees around the world will be venturing out into their communities to make people's lives better.
In the Philippines on September, Ford employee and dealer employee volunteers – known globally and collectively as the Ford Volunteer Corps – are among those taking part in community service initiatives in partnership with Gawad Kalinga to benefit over 1,100 individuals.
The programs include house painting in Cavite, building communal water facilities in Nueva Ecija and Batangas, and delivery of medical and dental services in Muntinlupa.
"We're proud to again participate in the Ford Global Caring Month with projects in various communities that will provide tangible benefits. Our Ford and dealer employee volunteers are excited to again lend a helping hand," says Josephine Gonzalez, AVP, government and corporate affairs, Ford Philippines.
Ford Global Caring Month is the signature annual event of the Ford Volunteer Corps. Since its launch in 2005, Ford Volunteer Corps members have contributed more than one million hours of community service in 50 countries, representing more than $30 million of in-kind community investments. During September, the Ford Volunteer Corps will tackle more than 600 projects with thousands of volunteers in six continents. In addition to the volunteer activities in the Philippines, Ford Global Caring Month projects include:

Australia - Install water tanks at a camp for disadvantaged young people
Brazil - Help build a facility to care for unprivileged families and their children with cancer
Germany - Assist with preparations for a new refugee camp
Mexico - Renovate a treatment center for children with disabilities
Russia - Renovation and construction work at a senior citizens center and school
South Africa - Install pumps and water storage at schools, make building repairs
United Kingdom - Restore a children's activity center, refurbish a shelter for the homeless
"Whether it's improving access to clean water or creating innovative ways to help children and families, each Ford volunteer is making a valuable contribution to a better world," said Jim Vella, president, Ford Motor Company Fund. "Each project is important because one person at a time, we are strengthening our communities and enhancing the quality of life."
Ford Fund is also contributing $600,000 in grants to purchase tools and supplies for many of the volunteer projects. Ford Volunteer Corps activities take place year round as part of a global network enlisting more than 30,000 Ford volunteer participants annually.
About Ford Motor Company Fund
Ford Motor Company Fund is the philanthropic arm of Ford Motor Company. Established in 1949, Ford Fund invests in transformational programs that advance innovation, empower people, promote social mobility and improve community prosperity. Ford Fund works with local and global partners to create opportunities in education, encourage safe driving, enlist employee volunteers and enrich community life. Ford Fund's signature programs include Ford Blue Oval Scholars, Ford College Community Challenge, Ford Driving Dreams, Ford Driving Skills for Life, Ford Next Generation Learning and the Ford Volunteer Corps. For more information, visit http://community.ford.com, or join us on Facebook at @FordFund and Twitter @FordFund.
About Ford Motor Company
Ford Motor Company is a global company based in Dearborn, Michigan. The company designs, manufactures, markets and services a full line of Ford cars, trucks, SUVs, electrified vehicles and Lincoln luxury vehicles, provides financial services through Ford Motor Credit Company and is pursuing leadership positions in electrification, autonomous vehicles and mobility solutions. Ford employs approximately 203,000 people worldwide.
For more information regarding Ford, its products and Ford Motor Credit Company, please visit www.corporate.ford.com.
Dealer News