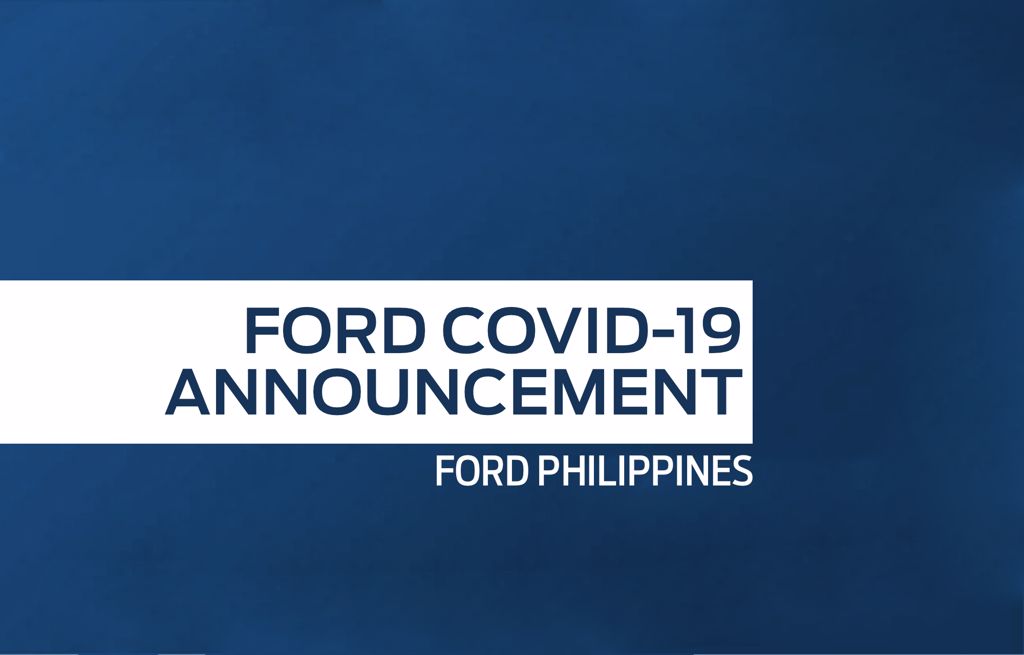 Dear Valued Ford Customers,
The last few weeks have been challenging as the nation battles the Covid-19 pandemic which continues to be detrimental to the lives of many.
At Ford, the safety and well-being of our customers, partners, dealers and employees remain our utmost priority. Allow me to share important updates on the actions we are taking to ensure the safety of our teams while extending our service to you.
With the closure of majority of our Ford dealerships in support of the nationwide enhanced community quarantine, we advise you to access various platforms for your sales and after-sales inquiries:
For inquiries about our vehicles, you may visit the Ford website or send us a message on our social media channels and we will reach out to you the soonest possible time.
For after-sales support, you may continue to reach our Customer Relationship Center (CRC) via +63-2-8866-9408 or 1-800-10-736-3673. Our CRC is now operational 24 hours a day and 7 days a week to attend to your concerns. You can also send an email to

[email protected]

for support.
We understand that the quarantine restricts mobility, so all of you whose warranty will expire during this period will be granted a one-month extension of coverage after the quarantine is lifted. This also applies to customers who availed of our Premium Extended Warranty.
We would also like to assure you whose Ford vehicles are in our workshops that they will be safely secured during this period. Your service advisor will reach out to you as soon as the situation normalizes for the necessary actions and next steps.
Over the last few weeks, we have also been in touch with organizations, hospitals, and communities to help them in their mobility requirements through our Ford Transit van and Ford Ranger pickup truck. With a grant from Ford Fund, we are also helping with the purchase of medical supplies and personal protective equipment (PPE) for use of our hospitals.
On behalf of Ford Philippines, I enjoin everyone to remain at home and exercise the necessary precautions to safeguard their health and well-being during this time.
PK Umashankar
President and Managing Director
Ford Group Philippines
Dealer News