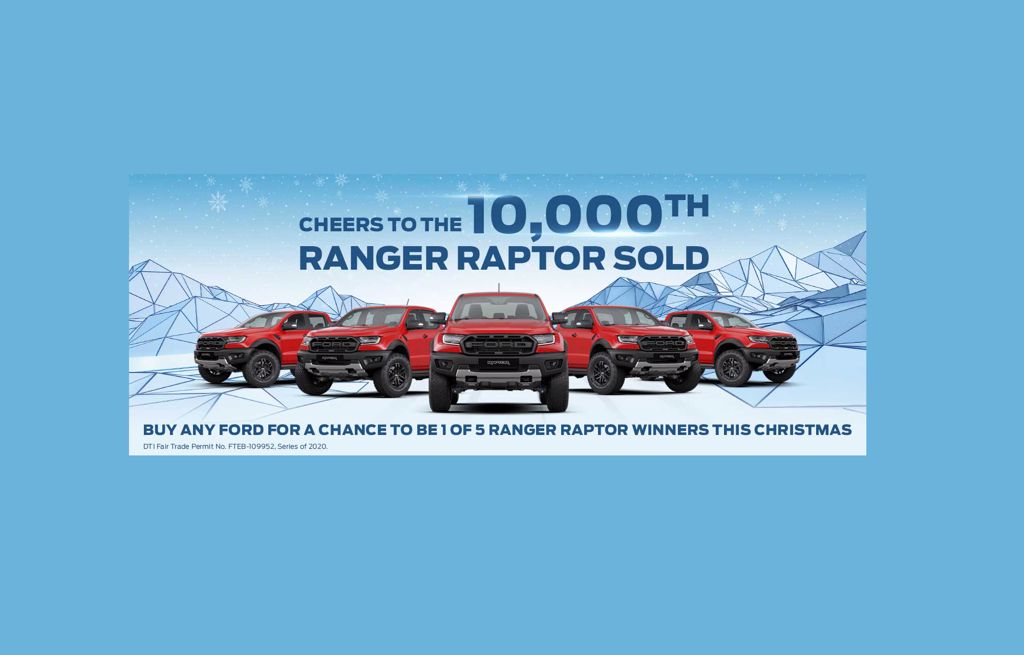 BUY ANY FORD FOR A CHANCE TO WIN A RANGER RAPTOR THIS CHRISTMAS!
GENERAL TERMS & CONDITIONS
PROMO DURATION
Promotion period is from December 3, 2020 to December 31, 2020
Promotion coverage is nationwide, encompassing all authorized Ford dealerships.
ELIGIBILITY
The promo is open to all Ford customers who:
Purchase any of the following Ford Vehicles during the promotional period

EcoSport
Territory
Ranger
Ranger Raptor
Everest
Explorer
Expedition
F-150
Transit
Mustang
All employees of Ford Group Philippines and its dealers, advertising, below-the-line, PR and media agencies and their relatives up to the second degree of consanguinity or affinity are disqualified from joining the promotion.
MECHANICS
Customers who will purchase any Ford vehicle from the promotional period will be automatically included in the raffle promo.
Customer who will purchase thru any EastWest Bank auto loan transaction is entitled to 2 raffle entries.
Customer who will purchase thru other transactions including other bank auto loan transaction is entitled to 1 raffle entry.
Only one (1) vehicle purchase can qualify for one (1) prize. In the event that a customer has bought more than one (1) vehicle, then that customer can win more than one prize. (e.g. If 1 person buys 2 vehicles and their name gets drawn 2 times, they are allowed to win 2 units of Ranger Raptor.)
All sales transactions must be encoded in GOALS to be included in the raffle promo. GOALs is a Ford-owned system that securely records all completed sales transactions and sales reports. All information are verified with a corresponding sales invoice (receipt issued to customer)
By participating in the promotion, participants are deemed to have consented to the use and disclosure of their personal data, including their names, mobile telephone numbers, mailing addresses, email addresses to Ford Group Philippines for marketing and publicity purposes whether related to the digital raffle draw or otherwise.
RAFFLE DRAW AND PRIZE
All invoices dated from December 3, 2020 - December 31, 2020 are qualified for the raffle draw
The digital raffle draw will be held on January 14, 2021 (Thursday) from 2:00 to 3:00 pm, in the presence of Department of Trade and Industry (DTI) representative via video call.
Raffle prize: Five (5) winners of a brand-new Ford 2.0L Bi-Turbo Ranger Raptor 4x4 AT
Ford Group Philippines will shoulder the tax relating to the raffle prize. Other related expenses relative to receiving the grand prize, such as but not limited to freight costs to provincial areas shall be shouldered by the winner.
By accepting the prize, the winner agrees to hold Ford free and harmless from any loss, injury, or damage caused by or arising from his/her participation in the program or caused by or arising from his/her acceptance and/or use of the prize.
Ford reserves the right to verify the eligibility of the winning entry. The winner's purchase should be a valid complete order, with no cancellations or returns.
The raffle prize is non-transferable and not convertible to cash.
CLAIMING AND NOTIFICATION
Raffle draw winner will be notified by a Ford representative/Ford Dealer via registered mail, e-mail or phone call.
The winner shall claim their prize from their Selling dealer. However, the winner has an option to claim the prize from any Ford dealership nationwide considering the requirements stated in item 4 and 5 (Claiming and Notification).
Winner will be given sixty (60) days upon receipt of notification to claim their prize. After the sixty (60) day claiming period, unclaimed prize will be forfeited in favor of Ford Group Philippines with prior DTI approval.
Upon claiming his/her prize, winner must present the registered mail, two (2) valid forms of identification or government-issued I.D. (SSS, Unified Multi-Purpose ID, Driver's License, Voter's ID, valid passport, TIN ID, NSO Birth certificate, NBI etc.) and vehicle invoice.
If there is any discrepancy between the winner and the documents produced for verification, the winner will be deemed as disqualified.
Requirements of winner's representative in claiming the prize – an authorization letter from the winner, the original copy of the registered mail, photocopy of the representative and winner's two (2) valid forms of identification (SSS, Unified Multi-Purpose ID, Driver's License, Voter's ID, valid passport, TIN ID, NSO Birth certificate, NBI etc.) with 3 specimen signature and vehicle invoice.
The winner's representative must also present original copies of the same required valid forms of identification.
By participating in the digital raffle, the winner agrees to cooperate with and participate in any advertising or publicity activities of Ford Philippines relating to the draw. The winner agrees that Ford may publicize the name and photograph of the winner in such mode and manner as Ford considers fit. The winner's name may be published on Ford's website, press releases & official social media channels.
DTI Fair Trade Permit No. FTEB – 109952 Series of 2020
Send us an Enquiry
Check out the Ranger Raptor
Dealer News