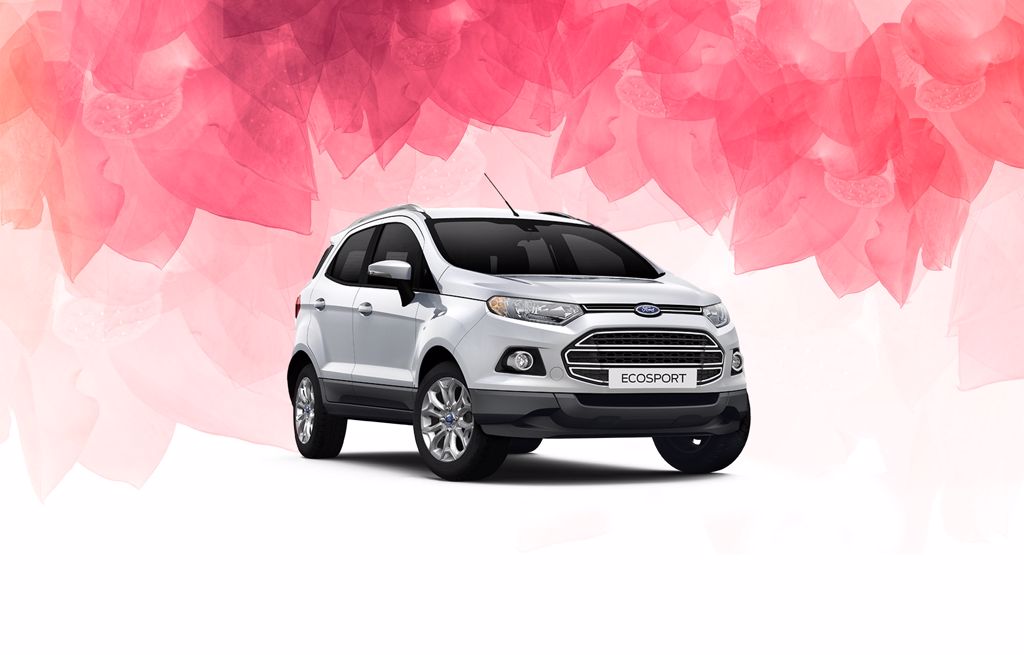 Mothers Day
Ford EcoSport - the SUV that wins the hearts of Women and Mothers
This is Cat. She drives a Ford EcoSport.
Since the launch of EcoSport in 2014, we observed that EcoSport is the perfect car for moms. We also observed its popularity amongst many mothers who did a test drive and bought a Ford EcoSport in the end. I fact, Ford launched EcoSport with women drivers in mind. We have thought of the many ways to present our moms a perfect present. For those who are looking to buy her a new car, the EcoSport is not far from the top of the list. Here are just a few of the reasons why it is the best choice of car for her (Why Ford EcoSport is Dream Car for Mom, 8 reasons why the Ford EcoSport is an ideal SUV for women):
Has the space that she needs for grocery shopping and for taking kids to school, to take the family and the dog to a trip inside and outside the city.

The 5-seater EcoSport gives the perfectly-sized, affordable SUV that women look for. It has a clever design that makes the most of every bit of space. It has 20 accessible compartments including cup holders, side-door pockets, a slide-out drawer under the front passenger seat, and a glove box that can keep food and drinks cool. Imagine all the room it has for every woman's daily essentials, umbrella, sunglasses, extra clothes, laptop, name it—the EcoSport has the space for it!
Takes smart cars to another level. With Ford EcoSport's Smart Keyless Entry, doors unlock automatically as ou approach the vehicle. Once inside,you only need to push the button to start the engine.
It is fully equipped with SYNC™, a technology that allows voice to activate certain features which is suitable for women who are always on-the-go. It lets the driver take phone calls, listen to text messages, and play music, audiobooks or podcasts from any media device. With SYNC™, ladies can catch up with business and family members, work, delegate her projects, while keeping their hands on the wheel and eyes on the road.
Comfortable and relaxed driving. From smooth highways to rocky roads, the Ford EcoSport guarantees a comfortable and light driving experience for her. Coupled with good approach and departure angles, its 200mm ground clearance between the driver and the road, potholes, it is built to endure the challenges of the rough terrain.
Advanced safety features. Whether it is for city driving, a beach trip or a quick Tagaytay getaway, the EcoSport can cater to any type of adventure she plans to conquer with its array of sleek features. EcoSport's Electronic Stability Program (ESP) and traction control are features to deal with sharp turn The Anti-lock Braking System (ABS) and Electronic Brake Force Distribution (EBD) are installed in the vehicle to avoid skidding.
Packed with power, yet saving on fuel. The EcoSport is equipped with a 1.5L Ti-VCT 110PS/142 Nm engine and a 6-speed PowerShift automatic transmission (5-speed for manual)It saves fuel without conforming with top-of the-line accelerations. In other words, with more smooth driving and less gas-pumping, the EcoSport's innovative engineering offers drivers more kilometres to a drop of fuel without compromise on power. This allows women drivers to enjoy driving by spending less time at the pump and more time on the road and most importantly, spending on fuel costs.
The EcoSport is an Eye Candy. There is always an EcoSport to fit one's personality and preference for a styish look. EcoSport is available in Panther Black, Ingot Silver, Winning Blue, Candy Red, Mars Red, Frozen White and comes in variants such as Ambiente 1.5L MT, Trend 1.5L MT, Trend 1.5L AT, Titanium 1.5L AT. For a sportier look, The Ford EcoSport Black Edition is also available in the market. Donned in

black-finished exterior details such as the grille and alloy wheels. It also has roof cross bars, rear spoiler, illuminated scruff plates, and sport pedals. What a look!
Parking is easy-peasy!The EcoSport has built-in rear parking sensors that detect objects in the way when reversing, instantly giving a beeping alert.
How much is a Ford EcoSport - An EcoSport starts at PhP 848,000 for a 1.5L MT Ambiente
Where is EcoSport manufactured? -

the SUV is also manufactured at Ford India's Chennai plant, for domestic sale and export to the

European

market. Ford's

Rayong

plant in

Thailand manufactures the EcoSport for

Southeast Asian

markets.
How many seats does an EcoSport have? - The compact SUV will be a

5-seater with a considerable boot space.
How can I arrange to test drive an EcoSport? - Simple! Just call us or leave us a message and one of our representatives will be in touch.
When is the launch of the New Ford EcoSport? - Expect the 2018 Ford EcoSport to make its official debut in the Philippines soon.
Do you have any more Qs?